Chatting on Tinder is not easy. Discover the 3 most successful messages that will let you get more answers from girls on Tinder.
You're a pretty smart, nice, and cute boy.
It shouldn't be that complicated to make a good impression on Tinder.
We assume that your Tinder profile has already been optimized, as described in 6 tips: a guide by a woman. This means that you already have a minimum amount of matches.
However, as soon as you send the first message to a girl, you are not getting any reply. Bad story, huh?
Don't worry, I've been there too!
Secrets to Chat on Tinder
If you have a lady friend, check out her Tinder. You will find that for a woman, it is completely different.
Each swipe on the right is a match!
This means that they just have to choose whom to chat with on Tinder.
It is also easy to understand how to chat on Tinder when you know very well what the intentions are on the other side.
Therefore, you must distinguish yourself from all the "Hello, how are you?" that the girls have as their first message.
With this article, I want to show you 3 copy-paste messages to be used on Tinder that have been very successful. They allowed my friends (from Sugar Mummy Pro) and me to start a conversation with a girl (always getting a positive response from their "potential" sweet half).
I want you to finally realize how easy it is to get answers (some even surprising) and start meeting girls or boys at Tinder!
Getting answers on Tinder: the numbering technique
To start chatting on Tinder, here is a straightforward message to send to a girl. A lot of guys (me in the first place and other readers of Sugar Mummy Pro) have tried and have achieved extraordinary results.
Here is the model:
Hi [girl name], here is [Your Name] speaking.
🖖🏻 For a general greeting, press 1.
🍷 For a friendly chat over a glass of wine, press 2.
💃🏻 For an evening of pure fun (of course), press 3.
🖕🏻 To say "How stupid! Try it with someone else," press 4.
I will also provide you the Spanish version of the copy-and-paste messages, in case you were abroad or spoke to some Spanish foreigner:
Hi [girl name], here it is [your name] who speaks.
🖖🏻 Para un saludo general, presione 1.
🍷 Para una buena conversación frente a una copa de vino, presione 2.
💃🏻 Para una noche de pura diversión (lo que pretendíamos), presione 3.
🖕🏻 Para decir: "¡Qué tonto! Pruébalo con otra persona", presiona 4.
As I said, these copy-paste messages work on Tinder. Here are some successful experiences of the dating guys:
Riccardo's achievements: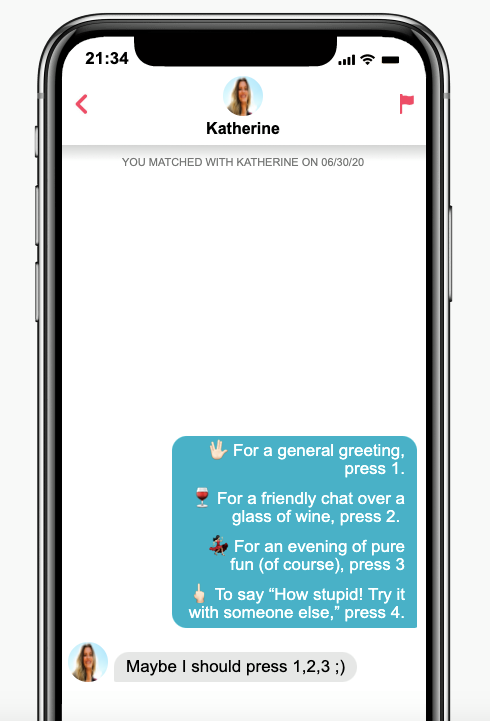 Francesco's achievements: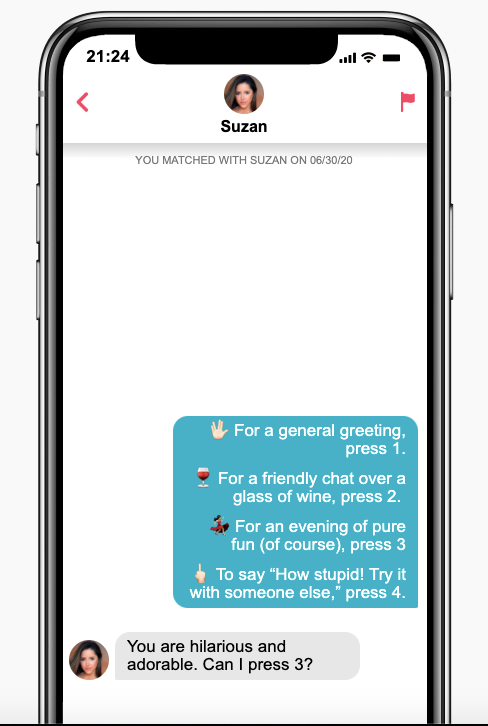 Collimoto's achievements: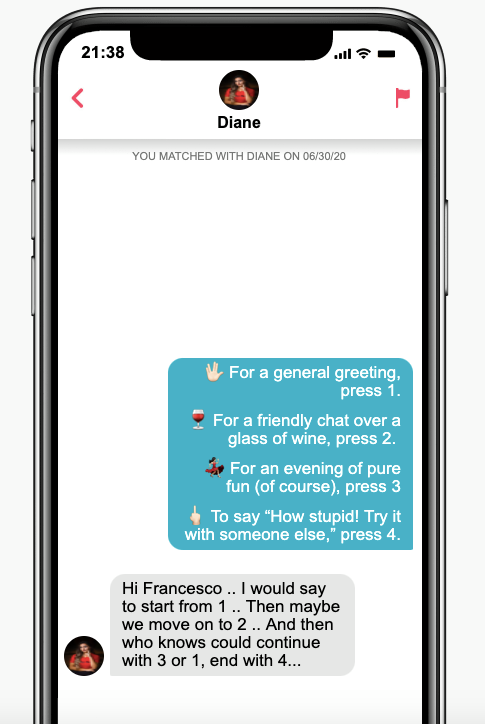 Simple isn't it? If you want to join us, just have to send me the screenshot of your success, and I will add your case studies here too.
It is a very simple technique with which you will be able to obtain a very high response rate! Seeing is believing! 🙂
It was only one of the 3 messages to get more answers on Tinder. I will explain the rest to you. Let's move on to the second!
How to get answers on Tinder: the "what a mess" technique.
Even this "what a disaster" strategy, just like the previous one, is straightforward to use. See what happened to our Riccardo:
This technique aims to see if the girl in front of you is willing to have a sexual relationship with you or not by sending only two messages.
First message to send:
What a disaster. What a disaster
The second message to send:
Regardless of the answer that will come to you, I would suggest that you answer as follows:

It is that I have just returned from living in London, and here in Italy, it seems that everyone is looking for love on Tinder.

I'm just back from a period abroad, and here in Italy seems like everyone is looking for love on Tinder.
Based on the girl's response to the second message, you will understand her real intentions.
It is a technique with which you will get many answers for one simple goal: it arouses curiosity.
Put yourself in the shoes of that girl you messaged; she wants to know why a guy wrote him such a message. Trust me; it will work! 🙂
How to get more replies to the messages on Tinder: the expert's opinion
This type of message works incredibly well for a specific reason: it can stimulate a lot, a lot, and a lot of curiosity, just like the previous technique. The girls on Tinder will receive the message and think:
"Oh god, what happened?"
"Can I really help him?"
and a thousand other questions like that.
The cool thing is that most of the girls on Tinder, once intrigued, will be happy to answer you (and maybe even help you).
Some will reply within a few seconds, some after a couple of hours and some after a week. This is a classic style, and you already know it. But before the waiting time for an answer, she will definitely reply.
Here's what you'll need to write:
First message to send :
Hi [girl name], I really need your help!
Relax and trust this trick because most women will answer you and be impatient to find out what you intend to ask.
The answers you receive will be all kind and friendly.
It's really a good feeling, huh?
What do you say after getting an answer?
Well, you used this strategy, and now you have the attention of all these girls. They are all super intrigued and just want to know what you have to ask.
Fantastic. And now?
Now comes the fun part! The goal of this trick is not simply to receive answers – but through the implementation of a small "screenplay ", you will be able to get in no time the number of a girl and a date for your first date with this last.
Here's how it works:
The second message to send (after her reply):
I met a girl [take some physical characters from her photos] who [take reference from some of the activity described in her bio]. She is very pretty and sunny. I think she is a very interesting lady, but we never really got to talk. So I would like to ask her to go out one of these evenings, but I don't know if she would prefer to go for a glass of wine in front of a beautiful view or a cocktail in my favorite pub.

What do you think I should offer her?
I met this [take some physical characters from her photos] girl who [a reference to the activity described in her bio]. She looks so nice, and she has a bright smile. I think she could be a fascinating person, but we never really spoke. So I'd like to ask her for a drink out one of these nights, but I dunno if she would prefer a glass of wine with a nice view, or a cocktail in a pub just for locals.

What should I ask her for?
No girl will say no to you. At least that's what Alessio told me:
Conclusion
These messages have been advantageous to me, and to all those who have used them. I'm sure these will work for you too!
In this article, I have described 3 techniques that will let you get more replies to Tinder's messages. Many of my contacts have also used them successfully on Badoo and Lovoo.
And what strategies do you use to get answers quickly on Tinder? Comment below! We may also learn from you!